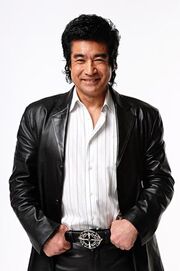 Kunihiro Fujioka (藤岡 邦弘, Fujioka Kunihiro?, born February 19, 1946), better known as Hiroshi Fujioka (藤岡 弘、, Fujioka Hiroshi?), is a Japanese actor who played Takeshi Hongo (Kamen Rider 1) in Kamen Rider. He reprised his role as Takeshi Hongo in Kamen Rider V3, Kamen Rider Stronger and in Heisei Rider vs. Showa Rider: Kamen Rider Taisen feat. Super Sentai.
He also voiced Kamen Rider 1 in the video game, Kamen Rider: Seigi no Keifu. He made a cameo as the MPD Superintendent General in Kamen Rider Agito: Project G4. He also sang the original version of Let's Go!! Rider Kick for the first 13 episodes.
Fujioka is a cultural icon in Japan, even having the minor planet 12408 Fujioka, discovered by Akimasa Nakamura, named in his honor. Fujioka writes his name with the ideographic comma at the end (after the kanji for "Hiroshi" (弘, "Hiroshi"?)), saying "It is meant to remind me to reconsider myself and what it is that I need to achieve. It shows that I am not yet finished with my tasks and must continue working toward their accomplishment."
Originally, Hiroshi Fujioka did his own stunts as Kamen Rider 1. This made Kamen Rider history when early on in the show, Hiroshi shattered his leg in a motorcycle stunt gone wrong. This resulted in him being replaced by Takeshi Sasaki, who played Hayato Ichimonji/Kamen Rider 2. Eventually, Hiroshi recovered returned to the show, joining Takeshi as the Double Riders, although Fujioka did not continue to perform in suit due to the risk it posed to production.
In recent crossover movies, early riders are voiced by new actors, with Kamen Rider 1 now being voiced by Tetsu Inada. However, in 2011, Hiroshi returned to voice Kamen Rider 1 in the 40th anniversary movie of the Kamen Rider Series, OOO, Den-O, All Riders: Let's Go Kamen Riders, alongside Takeshi Sasaki and Hiroshi Miyauchi, who played Kamen Rider V3. In 2012, Hiroshi commented on the passing of Shigeru Araki, who played Kamen Rider Stronger. [1]
Fujioka also played Reiji Osakabe in Tomica Hero: Rescue Fire and in Tomica Hero: Rescue Force Explosive Movie: Rescue the Mach Train!.
References
Edit
External links
Edit
Community content is available under
CC-BY-SA
unless otherwise noted.