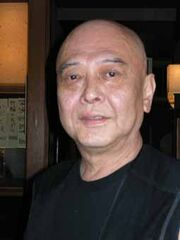 Takeshi Sasaki (佐々木 剛, Sasaki Takeshi?, born May 17, 1947) is a Japanese actor who played Hayato Ichimonji (Kamen Rider 2) in Kamen Rider. His character was a created as a replacement for Takeshi Hongo/Kamen Rider 1, after Hiroshi Fujioka, who did his own stunts as Kamen Rider 1, shattered his leg in a motorcycle stunt gone wrong. Eventually, Hiroshi recovered and returned to the show, joining Takeshi as the Double Riders.
After the conclusion of the original series, Takeshi reprised his role in the next, Kamen Rider V3, and later series as well. In recent crossover movies, early riders are voiced by new actors, with Kamen Rider 2 now being voiced by Takahiro Fujimoto. However, he voiced Kamen Rider 2 in Five Riders vs. King Dark and in 2011, Takeshi returned to voice Kamen Rider 2 in the 40th anniversary movie of the Kamen Rider Series, OOO, Den-O, All Riders: Let's Go Kamen Riders, alongside Hiroshi Fujioka and Hiroshi Miyauchi, who played Kamen Rider V3.
Community content is available under
CC-BY-SA
unless otherwise noted.